Summary

Design is not limited to products. Design can also be applied to banking services to generate better results. First retail banks design branches, online banking and bank customer experience. New technology and renewed IT landscapes play an essential role to enable service design in retail banking.

Design matters

Audi TT, Apple iPhone, bulthaup kitchen, Braun Pulsonic shaver and Bang & Olufsen BeoSound are products, which all come with great design and address retail markets. Designed retail products sell at higher prices and with better margins. E.g. an Apple iPhone comes with a great unique design and an up to 100% higher price than comparable cell phones.

Many people think design is limited to physical goods and products. But you also can design services. An example of service design is the great customer experience delivered by Ritz Carlton hotels. Guest satisfaction is their highest mission. E.g., when a room attendant sees an empty soft drink container in a guest's room, the type of beverage is noted. The next time a guest stays at any Ritz-Carlton, globally, that soft drink will be waiting on ice in the room. They don't just offer a hotel room – they offer an experience. Ritz Carlton is spending 120 hours on service training per employee per year. And this pays off. Ritz Carlton is able to charge a 30% price premium. Further examples of great service design are the recruitment service hello change! and Presby Neuro Clinic.

A recent Retail Banking Satisfaction Survey conducted by J.D. Power and Associates, an US research firm, reveals suffering bank customer loyalty. In addition due to the financial crisis many customers did loose trust into their banks. So, it is a matter of time until banks will discover how to leverage service design in retail banking to inspire their customers and to regain trust and loyalty.

Good bank customer experience can be designed

Actually, you can already observe first service design experiments of retail banks. Q110 – The Deutsche Bank of the Future in Berlin is a branch without barriers. The banks' customers are called guests. Advisors and bank guests meet each other at a comfortable lounge and friendly atmosphere.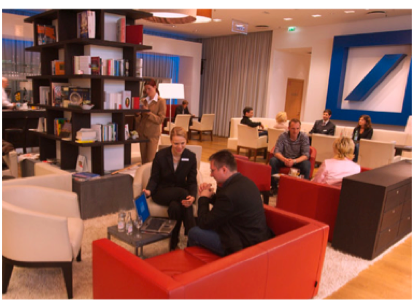 The different approach towards design starts with the branch architecture. The bank branch was not designed by a typically bank branch architect. Q110 was designed by architects who usually design Tommy Hilfiger and TOM TAILOR retail stores. The bank products come in special designed aluminium boxes and sales processes like "to welcome bank guests" and "account opening" are designed and trained restlessly by branch staff.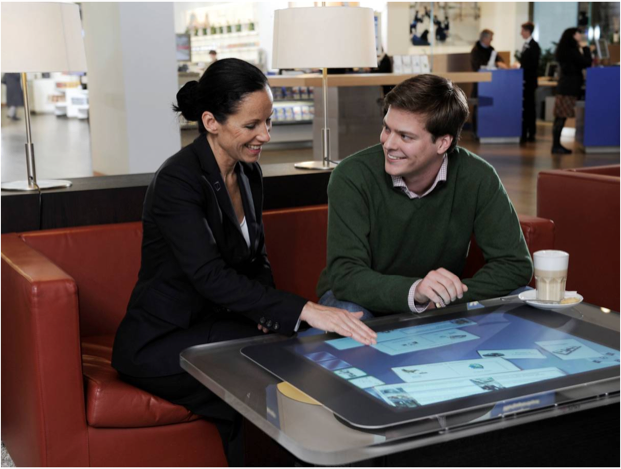 Finally, it is remarkable how Q110 makes use of new technologies. One example of outstanding customer experience design and use of technology is the deployment of Microsoft Surface™. Bank guest and advisor do jointly navigate through complex financial matters by simply touching a large table screen. In context of advisory of retirement provision Q110 has doubled sales. 

Good online banking experience can be designed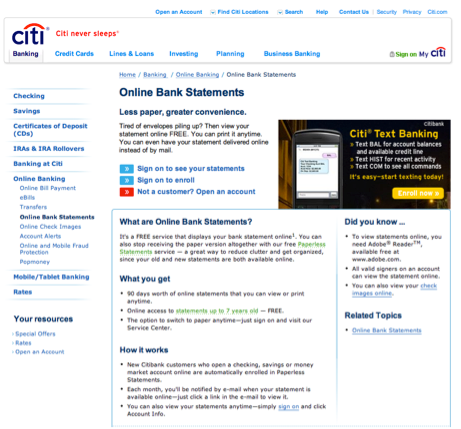 Websites of todays' banks all look alike and deliver a bad user and customer experience. Text and figures dominate. And most bank websites lack of a visual experience, bright colours, dynamic content and modern design.

Though, it can be done differently. Newly designed bank websites make good use of colours, are easily to read, have meaningful visuals, make use of quality photography, keep the website as simple as possible and provide an experience. An example of great web design in retail banking is SalemFive.

The U.S. based bank has a strong philosophy to listen to their customers to make banking a better experience. The website of SalemFive is extremely visual, combines bold photos and bright colours with dynamic content and modern design. The bank has created its own, unique branded online experience. Another example of customer experience design in retail banking is mint.com.  The free online service of mint.com brings all financial accounts of their customers together online, automatically categorizes transactions, lets set budgets and helps to achieve savings goals.

New IT landscapes will enable service design

Most traditional retail banks struggle to design similar branch or online banking customer experiences. Reasons are lack of understanding, skills and foresight. Another reason is the limitation to adapt new technologies efficiently in order to design bank services for better customer experience. While Deutsche Bank is able to create a great customer experience in Q110 the bank is limited by the inflexibility of its 30+ years old legacy IT landscape to efficiently integrate and roll out proven Q110 sales technologies and processes to all other 1,500 retail branches in Europe. In 2010 Deutsche Bank has started a replacement of its IT landscape by implementing a much more flexible and modern core banking system from SAP.

The example of Deutsche Bank shows, it is not enough to design great customer experience in one branch.  There is a need of retail banks to renew their legacy IT landscapes to enable service design across all sales channels like branch, internet and mobile internet.

Links

http://www.jdpower.com/finance/articles/2010-Retail-Banking-Satisfaction-Study

http://thefinancialbrand.com/17645/7-financial-website-homepage-designs

http://www.q110.de, Deutsche Bank of the Future, Berlin, Germany