Summary

Banks spend more than 120 billion US $ on retail banking technologies. Given global consolidation of banks and new paradigms towards information technology I expect a reduction to 60 billion US $ by 2025. New technological, methodical and organisational paradigms will enable some banks to decrease IT costs by 50% by 2020. A new class of service providers are expected to make that happen.

Banks spend 120 billion US $ on IT

According to the research company Ovum the global banking industry spends more than 120 billion US $ on retail banking technologies per year. Typically banks spend 40% of the IT budget on infrastructure and data centres, 35% on software maintenance and just 25% on new projects. And continuously increasing regulatory requirements eat up almost half of the budget for new projects. The limited budget for new projects leads to a situation where most established banks run up to 40 year old IT landscapes which are not flexible enough to comply with regulatory requirements, changing customer behaviour and merger readiness.

At the same time the majority of banks still follow their traditional modes of operation. Banks keep their IBM mainframe systems. Banks further develop their COBOL software. Banks still follow the traditional waterfall models in development. The IT and operations organisations of banks are still organised strong hierarchically in silos.

Consolidation of the banking industry

The number of US Banks decreased from more than 15,000 in 1990 to less than 8,000 in 2011. A similar development can be observed in Europe. E.g. in Germany the number of banks decreased by more than 600 to 2,100 over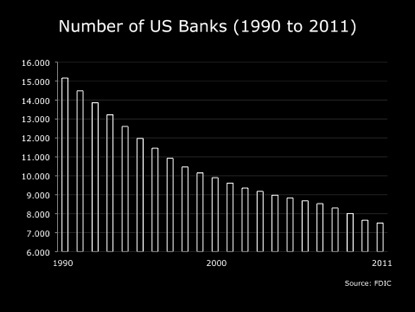 the last 10 years. The continuous financial crisis will accelerate the consolidation of the banking industry for the next years.
New paradigms towards Banking IT

Given the growing maturity of information technology I expect that by 2020 some banks will have reduced the IT costs by 50% and will have increased the share for new projects.

In order to achieve that banks and service providers need to change the way they work on three levels:

Technology

✦Systems are developed from an user productivity point of view, not from a pure functional point of view


✦Processes are implemented flexible, not fix coded


✦Functions are implemented service-oriented or based on standard software, not application centric and self developed

✦Data centres and infrastructure are built on standard low cost hardware and highly automated, not with the current high variety and manual


Methods

✦The work is done by applying rapid development models, not traditional waterfall models


✦Service Thinking is introduced, not pure functional thinking


✦New projects create and test prototypes first, not implement business specification blindly


Organisation

✦Information is open and based on democracy, not hidden


✦Hierarchy is dynamic, not static and silo oriented


✦Collaboration is based on trust and self control, not top down control


✦Focus is on learning, not on avoiding failure


A new class of service providers

Given the consolidation of the banking industry I expect a decrease of the Banking IT market size. In addition, the set of new paradigms towards Banking IT will enable productivity gains.

I expect banks to raise the bar significantly for the current service providers. And a new class of service providers will take on the challenge, will follow the new paradigms towards Banking IT and will deliver the demanded performance.

All together that will cut in half the current 120 billion US $ market by 2025.